F

irstly, I would like to wish all our Muslim brothers and sisters out there: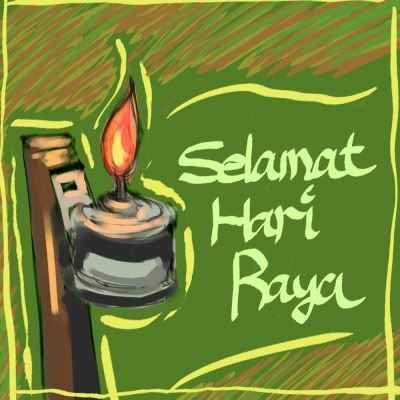 Heh! Heh! For the first time in history, we actually celebrated Hari Raya. Seriously....
Allow me to explain. My granny has a maid who is and ocean away from home. SO, this year, we decided to make her feel at home by celebrating Hari Raya with her. We cooked up a feast consisting of traditional 'Rendang' chicken, lemang, rice, and much more.
She was surprised but she was so stunned, she had not many words to say. Heh! Heh! Must have been a real great surprise. My uncle and aunt came back to celebrate with us which made us feel even more prospourous and vibrant. At the end of the day, the maid was really appreciative of our efforts and well, more importantly, we had fun too.
All in all, no matter who the person is, they to are human. Just like you an me. So, lets not oppress them like a handful of inhumane monsters (if I ever cross one, by George, I'll give the person a piece of my mind). They came here looking for an opportunity. So lets make their opportunity a bit more worthwhile.